About the Exhibition
Featuring changing displays of works from the Skirball's permanent collection of Judaica—one of the largest in the world—this historically illuminating exhibition chronicles the struggles and achievements of the Jewish people over a span of four thousand years.
Travel through the many lands and civilizations where Jews have lived and discover how ancestral visions continue to shape modern values. The Visions and Values galleries—Beginnings, Journeys, Holidays, Lifecycle, Synagogue, Passage to America, Nation of Immigrants, Struggle and Opportunity, the Holocaust, the State of Israel, and At Home in America—take the visitor on an unforgettable voyage of learning and discovery.
"I am always awed by the Visions and Values exhibition."
---
Collection Spotlight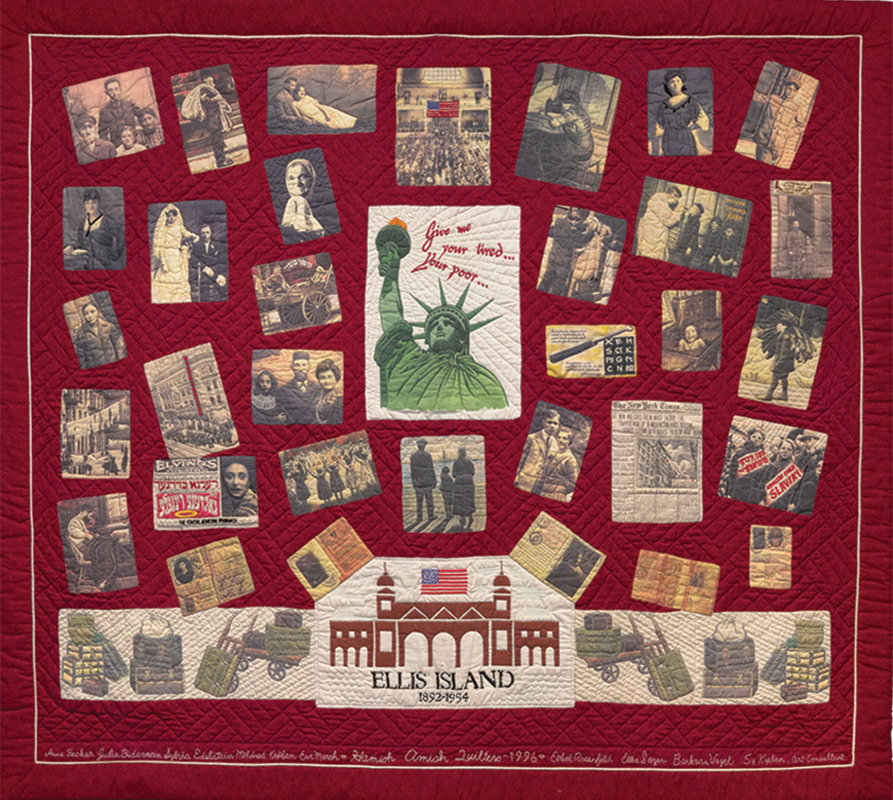 Featured collection item: Hamish Amish Immigration Quilt—A recent addition to the Skirball Museum collection, the quilt (above) was created by the Hamish Amish Quilters of Van Nuys, California, to honor the memory of their ancestors who immigrated to the United States. This community of Jewish quilters incorporated photographic images of family members and historical events, depicting the nineteenth-century Ashkenazi Jewish immigrant experience. Thirty individual patches surround an image of the Statue of Liberty and Jewish-American poet Emma Lazarus's famous words, "Give me your tired … Your poor … ." A personal tribute to a universal experience.
Hamish Amish Quilters, Ellis Island Quilt, Van Nuys, CA. Textile. Gift of the Hamish Amish Quilters and their families. Skirball Cultural Center, Los Angeles. 25.238.